Relative Strength Index (RSI) with State ModelingTM
How to identify stocks that have formed a bottom, are oversold and ready to rebound.
There are two signals when combined help identify such stocks - Relative Strength Index (RSI) with State ModelingTM
Explanation of the Signals:
The Relative Strength Index (RSI) is a momentum oscillator that measures the speed and change of price movements. The RSI oscillates between 0 and 100. The standard default for days is 14. Traditionally, the RSI is considered overbought when above 70 and oversold when below 30.
State Modeling™ is a proprietary signal from Delphian Trading. Stocks are in a State numbered from 1 to 8 at any given time and only in one state at a time. States 1, 3, 5 and 7 are bullish and States 2, 4, 6 and 8 are bearish. State 1 is extremely bullish while State 8 is extremely bearish. This signal allows users to find symbols based on their current state and whether or not their current targets or stops losses have been met.
Trade Theory:
State 8 in State Modeling™ is the most bearish state and typically has large downward moves over an extended period of time. Once the State Modeling State 8, target 3 has been hit, the stock has hit Delphian's most aggressive target price. The target 3 price is a potential support area with a possible reversal ahead. After State 8, more often than not, a symbol will transition into a bullish state. Using a secondary confirmation can assist in solidifying a potential price support and reversal. When Relative Strength Index (RSI) has bottomed out at a low and is increasing, buyers typically come into the market. When the 14-day RSI crosses above 30, the signal presents a buying opportunity. The combination of these two signals presents a potential bottom with a typically gradual rise over time.
The RSI Bottom study uses a 14-day RSI crossing above 30 with the State Modeling™, State 8, target 3 met as a bottom in the market and a reversal pending in the price.
Charts depicting the confirmation of a bottom:
SOHU State Modeling – State 8, Target 3 met on 1/29/2018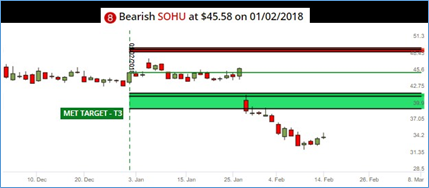 SOHU RSI Crossed above 30 on 2/14/2018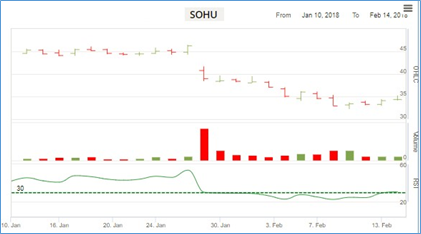 SOHU chart after the bullish signal on 2/14/2018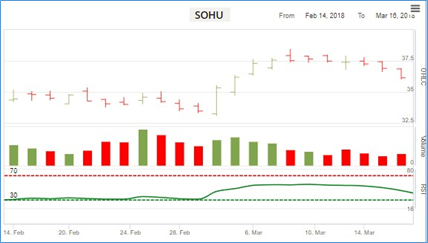 Trade results after buy signal:
Long stock with 5% profit and 10% stop loss
Entry 02/14/2018, 5.08% profit achieved on 03/05/2018 (In trade 13 trading days)
Long call with 25% profit and 100% stop loss
Entry 02/14/2018, 33.33% profit achieved on 03/06/2018 (In trade 14 trading days)
For additional option strategy results, please fill form on the right side of the page. One of Trading Strategists will reach out to you.